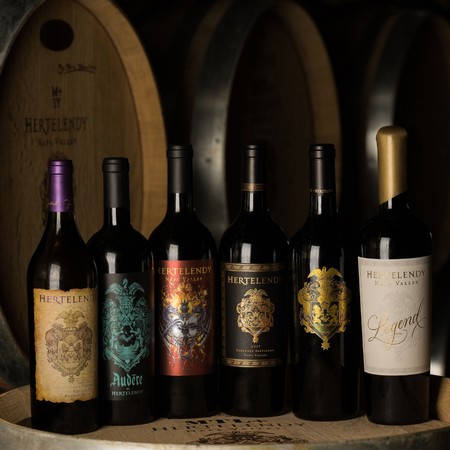 Connoisseur Tasting
Indulge in a luxury tasting experience unlike any other! Receive the VIP Hertelendy treatment when you book this unforgettable wine tasting opportunity of a lifetime.

**Current Tasting List By Appointment Only**
Elevate your tasting experience with our 2018 Audēre Red Blend, 2018 Chardonnay, 2018 Cabernet Sauvignon, 2018 Signature Mountain Blend, and two very special wines from our portfolio. These additional wines may or may not include the Hertelendy Legend, Cabernet Franc, or a library vintage of one of our classics. Sold out wines will not be available to taste.
SUBJECT TO AVAILABILITY
We invite you to come and enjoy the ultimate winery experience at The Caves at Soda Canyon! Visit our underground winery located above the famed Stags Leap District, overlooking one of Napa Valley's most breathtaking views, and enjoy a tour of our gorgeous facility where our magic is made. Here we produce some of Napa's most ultra premium handcrafted wines created from some of Napa's finest terroir.
To schedule an appointment, please call 510-629-9463 or email us at [email protected].
*Required reservations are limited, and thus, same day requests cannot be accommodated*
*Tasting fee is pre-paid to secure reservation*
*Non-refundable 48-hour cancellation policy*

*One tasting fee is waived with a purchase of 12+ bottles*

VIRTUAL TOUR OF THE CAVES AT SODA CANYON OVERLOOKING NAPA VALLEY!
---
Our wines can also be found at Vintner's Collective in downtown Napa, and they are open until 7pm EVERYDAY! Vintner's Collective is also by appointment only.
Interested in a private Virtual Tasting with our winemaker? Email us for further details.