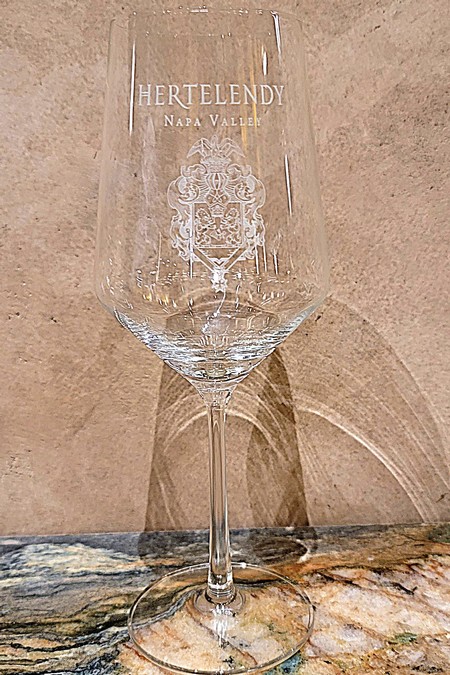 Etched Schott Zwiesel Stemware
** Schott Zwiesel Cabernet Red Wine Glass Pure** Custom etched Schott Zwiesel glass with the Hertelendy Vineyards Logo meant specifically for our Chardonnay (however, it will also work well for Cabernet Sauvignon, Bordeaux varietals, Merlot, Malbec, Syrah, Zinfandel, Barolo, Super Tuscans, & Viognier).
We specifically tested out numerous Riedel, Schott Zwiesel, Gabriel Glas, and Zalto glasses (both red and white glasses from the smallest to the largest) to see which glassware would showcase the best aromatics and flavor profiles for our big and bold Chardonnay. This Schott Zwiesel was the clear winner because of the way it's designed—the tapered, dramatically angled bowl allows the aromatics to become much more focused while allowing the perfect amount of surface area to introduce oxygen to our Chardonnay. As you may or may not know, our Chardonnays benefit from a quick splash decant or aeration prior to serving. They are full-bodied, Cabernet-lover's Chardonnays made in a voluptuous, provacative style. Therefore, utilizing this stemware is not only stylish for postmodern tabletops, but also maximizes the overall experience.
Specifications: 18.2-ounce capacity; 9.75-inch tall, 3.6-inch wide, diameter: 4 1/8 in, Weight: 6.61 oz
Made of Tritan crystal; non-lead material composed of titanium oxide and zirconium oxide; tritan is a worldwide patented crystal glass material. Completely dishwasher safe; do not force bowl tightly over dishwasher rack prongs; do not twist stem and bowl while holding one or the other tightly.
Available individually or in multiples of 4.
Single Glass